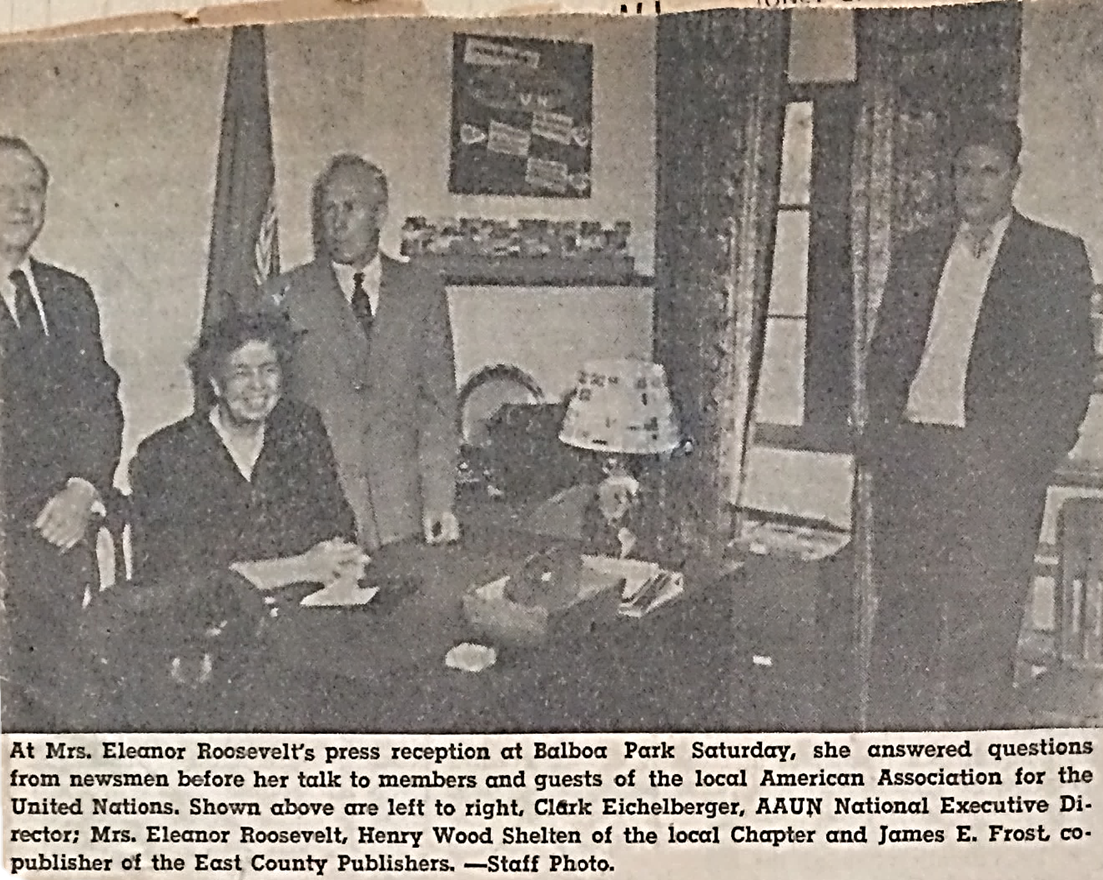 The

Eleanor Roosevelt Human Rights Award

is very special and personal to our Chapter. Former First Lady Eleanor Roosevelt and great champion of the Association visited the Chapter frequently.  She signed San Diego Chapter's office lease in Balboa Park, House of Hospitality, in 1953 and returned years later to further secure UNA-USA San Diego's a physical presence with the UN Building, steps away from the International Cottages.  Over the past decades the organization has increased public visibility of the UN locally and nationally with the executive and legislative branches of the US government in Washington, DC. It proudly collaborates with community partners while living into UNA-USA San Diego's mission to locally educate, advocate and mobilize for a Culture of Peace and Global Citizenship.
With the Eleanor Roosevelt Human Rights Award, we recognize individuals that believe in the goals of the United Nations and effect positive, lasting change in their work. The award has been given – every year – since 1998.
PAST RECIPIENTS
1998       Nick Stamon | Founder, San Diego Chapter of Amnesty International, CA
1999       James Hubbell | Ilan-Lael Foundation, Creativity as Catalyst for Positive Change
2000       Lucy Killea, CA State Senator, Ret | Co-Founder, Fronteras de las Californias
2001       US Congressman Bob Filner | Social programmes for the Homeless & Vets, San Diego, CA
2002       Steve Brown | La Jolla Golden Triangle Rotary, Foundation Vice Chair and Trustee, San Diego, CA
2003       Kathi Anderson | Executive Director, Survivors of Torture International, San Diego, CA
2004       Christine Kehoe, CA State Senator | City's Equal Opportunity Ordinance | incl. LGBT, CA
2005       Christine Brady | Americas Foundation, Building schools at U.S./Mexico Borders, CA
2006       Laurel Burch | Healing Through Art, CA
2007       Ted Alemayhu | U.S. Doctors for Africa, CA
2008       Ann Craig PhD | Provost of Eleanor Roosevelt College, University of California San Diego, CA
2009       Casa Cornelia Law Center | Pro bono legal services to victims of human and civil rights violations, CA
2010       Bilateral Safety Corridor Coalition | Unity Coalition Against Trafficking San Diego & Baja CA
2011       Joan Kroc Institute for Peace and Justice | Women Peacemakers Program, USD
2012       Elizabeth Lou | Founder and CEO, Nile Sisters Development Initiative, San Diego, CA
2013       Sadiq Tawfiq | Afghan Amity Society, Laguna Beach, CA
2014       Doni DeBolt | Adopt a Special Kid Agency | Children with disability, San Francisco, CA
2015       Dee Aker | Activist & Advocate for Women's Rights, Joan Kroc Institute for Peace and Justice, USD
2016       Lakshmi Puri | U.N. Assistant Secretary-General & Deputy Executive Director, UN Women, NYC
2017       Carrie Hessler-Radelet | CEO, Project Concern International; Former Deputy Director Peace Corps