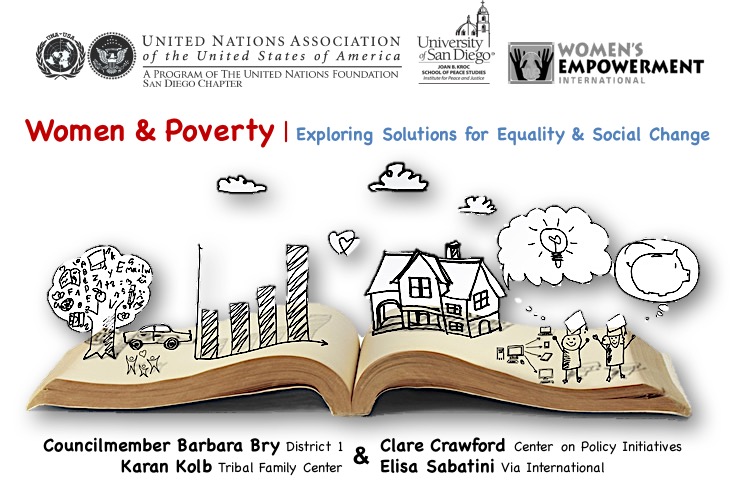 On March 8, women around the world celebrate International Women's Day, honoring the social, economic, cultural and political achievements of women. The U.N. Association of San Diego, in partnership with the Kroc School's Institute for Peace and Justice (IPJ) and Women's Empowerment International, are celebrating International Women's Day: March 8, 2017 from 6 to 8 PM at the University of San Diego, Kroc Schools Instiute for Peace and Justice, IPJ Theatre.
We invite the general public for a free, interactive panel discussion to explore persistent local & global challenges related to women in poverty. Together, we will continue to seek sound solutions for gender equality and the economic empowerment of women critical to driving positive social change.
Join our distinguished panelists for an interactive discussion exploring challenges and solutions for women in poverty experienced both locally in San Diego and across the globe.
MEET OUR MODERATOR & PANELISTS
[expand title="Stefania Marchina"] MODERATOR: Stefania serves on the Board of UNA-USA San Diego while also co-chairing one of its oldest programs, the Women's Equity Council (WEC). Holding a Bachelor of Arts in International Relations as well as a Masters in Economic Development and International Cooperation, she focused her studies and research on the linkages of gender inequality, macroeconomics and the role of international organizations in adressing persisting challenges in gender equality.
A committed feminist activist, Stefania works with and through several organizations in Mexico in the field of gender-based violence and economic empowerment particualrly as it relates to vulnerable communities. She is a strong advocate on behalf of these communities pushing for the necessary changes in public policies. [/expand]
[expand title="Clare Crawford"] TOPIC: Rising Poverty in San Diego & Impact on Local Women. Clare joined the Center for Policy Initiatives (CPI) as Organizing Director in 2010, bringing over 17 years of experience working with disenfranchised and impoverished communities as an organizer and advocate. In San Diego as well as in Texas, Oregon and the South Bronx, Clare has been a leader in efforts to advance the rights of workers, immigrants and low-income communities through organizing, voter engagement, leadership development, coalition building and grassroots campaigns. She has led campaigns for public school reform, renters' rights, affordable housing, electoral reform and the rights of homeowners throughout the country. She was named CPI Executive Director as of January 2011, replacing Donald Cohen, who moved on to head two national projects. [/expand]
[expand title="Councilmember Barbara Bry"] TOPIC: Public Policy Solutions for Women in San Diego & Impact on Local Women. Councilmember Barbara Bry represents San Diego City Council District 1, which includes the communities of Carmel Valley, Del Mar Heights, Del Mar Mesa, La Jolla, Pacific Highlands Ranch, Torrey Hills, Torrey Pines, and University City. Barbara is chair of the Committee on Budget and Government Efficiency, vice chair of Public Safety and Livable Neighborhoods and is a member of both the Committee on Rules and the Committee on Economic Development and Intergovernmental relations.
Barbara Bry is a high-tech entrepreneur and community leader who worked her way through college and grad school, earning a Master's Degree in Business from Harvard. Barbara was on the founding team of several local high-tech companies, including ProFlowers.com, which has created hundreds of local jobs.
A leader in the San Diego business community, Barbara taught entrepreneurship at UCSD and founded Athena San Diego, an organization that supports the advancement of women in the tech and life science sectors. As a business journalist, she has also spotlighted the vibrant small business community that supports our city's economy and was honored as Small Business Journalist of the Year for San Diego and Imperial Counties by the Small Business Administration.
Barbara has deep roots in the community and has lived in San Diego for 35 years. She is married to Neil Senturia, raised her two daughters here, and is a proud grandmother. She served as President of the Board of the Children's Museum of San Diego and as Vice Chair of the San Diego Jewish Community Foundation. She was also a two-time Bobby Sox team manager for her daughters.
As a high-tech entrepreneur, Barbara will bring an enterprising and relentless mindset to City Hall to keep San Diego safe, clean and prosperous. Barbara will work to create more good paying jobs and help small businesses grow, so that we can invest in maintaining San Diego's quality of life by fixing our streets; protecting our beaches, bays, and parks; and conserving our water supply. [/expand]
[expand title="Karan Kolb"] TOPIC: Current Changes and Trends on Poverty: A Perspective From Native American Women in San Diego. As an enrolled member of the Rincon Band of Luiseno Indians, Karan is responsible for the delivery of social services programs specializing in prevention services to families. She has experience working with Tribal families in the areas of family preservation, court advocacy and reunification services as well as parenting and child welfare prevention services as well as parenting and child welfare prevention services for over 23 years. Karan has developed the Indian Child Welfare Act Program (CWAP) into the Tribal Family Services Department by building communication with tribal, county and state governments.
Starting her career at Indian Health Council (IHC) as a health educator for the HIV/AIDS program in 1992 and later with the ICWA program in 1994, Karan serves on the board representing the Rincon band of Luiseño Indians on the strong hearted native women's collation. She further provides Indian Expert Witness testimony as well as case oversight and direction to a team of Tribal Social Workers for seven Tribal Nations. She earned her MPsy degree with the university of the Rockies and currently pursues Indian Law at the University of Tulsa. [/expand]
[expand title="Elisa Sabatini"] TOPIC: Grassroots Solutions for Women's Empowerment: The ESTIMA Project. Elisa Sabatini serves as the Executive Director for Via International. She is responsible for providing strategic direction, supervising staff, creating new programs, and securing resources for activities in Mexico, Guatemala, the United States and Canada. Program areas include family health, nutrition, micro-finance, sustainable agriculture, community organizing and development education. In 2003, the VolunTours "social business" joined the family of Via programs. Elisa formerly served with World SHARE for fourteen years as the Regional Director for Latin America. She coordinated participatory processes to create an autonomous SHARE organization in Guatemala as well as develop self-funding food distribution in Mexico and a rural agricultural loan fund.
In Mexico, the Compartamos (SHARE) program is now the largest micro finance initiative in Latin America. Elisa joined Los Niños in 1998. In 2009 Los Niños changed its name to Via International. Ms. Sabatini has worked in the business sector, establishing and managing an import/export design firm in Hawaii and is bilingual in English and Spanish. She also understands Italian and some French. She did doctoral coursework at the University of Hawaii graduate school of East West studies specializing in agrarian economic development. Her earlier graduate work was in international economics at the University of Denver with a concentration on Latin America. She has a bachelor's degree from the University of Denver in Economics with minors in computer science and Spanish. She also completed course requirements in primary health and nutrition and studied at Schiller College in Spain. [/expand]