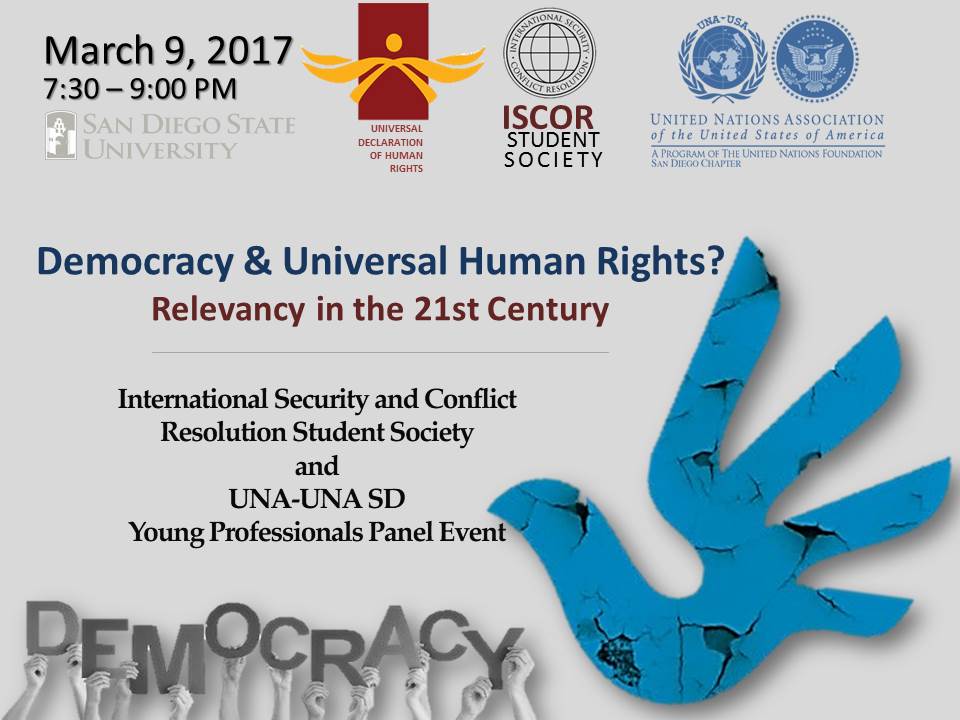 REGISTRATION 7:30 PM | Panel 8:00 PM | NETWORKING 8:50 PM
Refreshments & Food provided by courtesy of International Rescue Committee (IRC)'s Project Chop
MEET OUR GUESTS & PANELISTS
Bettina Hausmann
MODERATOR: As the President & Executive Director of UNA-USA San Diego, Bettina provides both visionary and strategic leadership as well as operational management to all of the organization's activities in continuing the legacy in advocating for a shared humanity with global responsibility. Growing up in East Germany (former GDR), Bettina's early adulthood was shaped by Cold War Era politics and living life behind the Iron Curtain. These personal experiences resulted in her strong sense of community and the understanding of the importance of collective memory, cultural conflict and peace. Over the past thirteen years, Bettina has been a frequent delegate to UN High-Level Plenary meetings and panels worldwide, among other Rio+20 that gave birth to the Sustainable Development Goals (SDGs) and the annual UN Human Rights Commission meetings in Geneva, Switzerland.
Marie Betts-Johnson
KEYNOTE: Ms. Betts-Johnson is a renowned expert in the International Protocol and Business Etiquette industry. Originally from Tipperary, Ireland, she is based in San Diego, California and established The International Protocol Institute of California in 1989. Throughout her time working in International Relations, Ms. Betts-Johnson has worked with the United Nations, training diplomats in social and cultural protocol before their posting overseas. She has also notably served as the Director of the World Trade Institute and World Trade Center in San Diego CA.
Hanif Mohebi
PANELIST: Raised in the heart of Silicon Valley, Hanif is the former Director of a Communication Consulting Firm in San Jose; he has held various directing positions at for-profit and non-profit organizations. At a young age, he experienced life in the United States, was exposed to the works of the United Nations and met community dignitaries which all has influenced his character. Mr. Mohebi holds a B.A. in Communication Studies with emphasis on Globalization and Social Justice. He has emerged as a guest speaker at high schools, universities, companies and community events on variety of topics ranging from Concepts of World Citizenship to The Cycle of Love, to History of Anti-Civil Liberties Legislations. He is a young and passionate Muslim American with a wonderful cosmopolitan attitude and great love for civil rights, human rights, and the Constitution of the United States. Obsessed with the idea of bringing about a positive change to the world through dedicating his life to serving humanity Hanif's quest led him to join CAIR San Diego, as Executive Director.
Henri Migala, PhD
PANELIST: Born in Paris and immigrated to the United States as a child, Henri holds an M.A. in Sociology/Anthropology from the University of Texas at Arlington, an M.P.H. from the University of North Texas, Health Sciences Center and a Ph.D. in Education from San Diego State University. Dr. Migala now serves as the Director of the International House at UC San Diego after a long career in international health and development in nearly 20 countries, employed by the UN World Health Organization and an administrator at a medical school and community college, Dr. Migala possesses a wealth of international and educational experience.
Kinda Hibrawi
PANELIST
: An acclaimed artist, strategist and creative director who has worked on various projects with the U.S. State Department, UNRWA, UNICEF as well as local and national organizations, Kinda co-founded and jointly ran 7 Innovative Education programs for displaced Syrian refugees on the Syrian-Turkish border starting in Atmeh, Syria from June 2013 to Reyhanli, Turkey in December 2015. The United Nations named her a 2012 Global Thinker and Influencer at the Rio+20 Conference on Sustainable Development. In May 2014, she was awarded the Ward Humanitarian Medal by the Williston Northampton School, in MA for her work with refugees. Prior, she was recognized as an internationally known painter in Arabic Calligraphy using her artwork to bring awareness to non-profits on Palestine, Lebanon, Syria and local charity work in the US for children with cancer.
Kinda Hibrawi is invited frequently to speak about her work on art, activism and non-profit development to the media and at major Universities including UCLA, MIT, Chapman University and Harvard. In 2017, she founded Sahtein With Love, a volunteer-led initiative for recently arrived Syrian refugees in California. Guests break bread with a Syrian refugee family in their home, helping to welcome them into the U.S. and build a stronger community of support. Of Syrian descent, from Aleppo, she grew up between Saudi Arabia, Syria, Bahrain, Lebanon, and the United States. She currently resides in California.
Vanessa Dojaquez
PANELIST: Holding a J.D. from California Western School of Law in San Diego, CA and a B.A. in Political Science from the University of Arizona, Vanessa is experienced in non-profit work including Naturalizations and Adjustments with the Jewish Family Service, and Asylum and VAWA cases with Casa Cornelia Law Center here in San Diego. While at the Law Office of Lilia Velasquez, Vanessa was exposed to deportation defense practices and further specialized in employment immigration at Guerra & Johnson, PC. Ms Dojaquez joined the International Rescue Committee San Diego Immigration Department in April 2016 as the Senior Immigration Supervisor, offering a wide range of Family Immigration and Citizenship services. She has been a recent voice on behalf of IRC San Diego for the community.