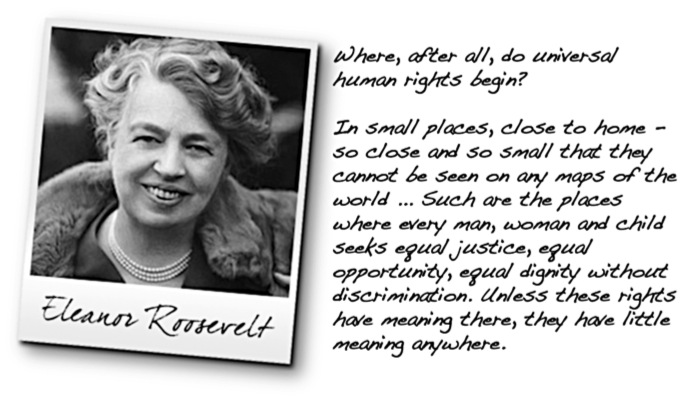 Each year, the San Diego Chapter of the UNA commemorates the founding of the United Nations, hosting high level speakers from the US State Department, (e.g. Stephen O'Dowd, Director of Economic & Development Affairs); UN Officials, (e.g. Stephane Dujarric, Spokesperson for UN Secretary General) and influential multi-national NGOs (e.g. Chief Operating Officer, Carrie Hessler-Radelet for Project Concern International), to celebrate our broader community's efforts as contributing global citizens.
This year's celebration is in conjunction with the 70th Anniversary of the Universal Declaration of Human Rights (UDHR) and focuses on its Article 1: "…everyone should act towards one another in a spirit of brotherhood". Our program will link the health of our planet and our immediate environment with the need of everyone having access to safe, affordable and equitable primary health care services.
Our annual celebration has always maintained a strong youth component, as we believe that an engaged and supported youth holds the promise for a more hopeful tomorrow.  Therefore to catalyze conversation around climate and the health of the planet we are hosting youth from San Diego's most underserved neighborhoods and communities, who will disproportionally bear the uncertainties of changes in environment and climate.
We welcome a NASA astronaut from its Earth Science Program, as distinguished keynote speaker to advance the understanding of these important topics, ignite the passion and interest of youth in science and technology as well as foster innovative exchanges and new partnerships between attendees.  This event will offer a rich program of learning and networking to stimulate career choices in the fields of STEM for our youth who are eager to become active change makers in the protection and future of our shared planet. The NASA astronaut will further share his/her professional trajectory during the network session immediately following the celebration to allow youth attendees, members and community partners a personal connection.
Stay tune for more information on our venue and SAVE THE DATE for this year's celebration on Saturday, October 27, 2018.
For more information, please contact our office, Executive Director Bettina Hausmann via bhausmann@unasd.org.