The Extractivist Model & Its Impact on Rural Women
UNA USA San Diego Parallel Event during UN 62nd Commission on the Status of Women, UNHQ in NYC
During the Annual UN Commission on the Status of Women (CSW), UNA USA San Diego Chapter is hosting a distinguished parallel event inviting all participants of the 62nd CSW and the public to a free panel discussion on Defending our Land, The Extractivist Industry and its Impact on Rural Women.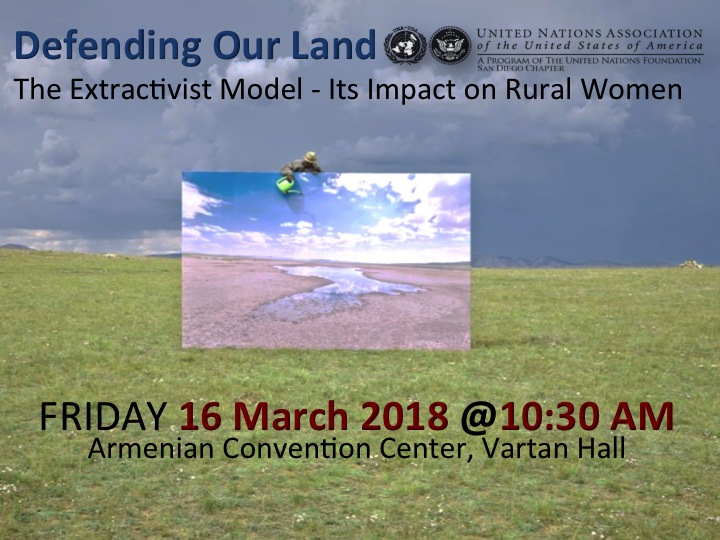 Women and girls in rural areas fulfill the roles as primary caregivers and sustain life as a whole in their communities. Their extensive daily work involves self-sustaining agricultural practices, physically demanding functions such as carrying water and firewood, as well as ensuring continuous supply of nutriments for their families.
In rural areas, all natural resources available within its immediate environment are the very base for survival. The intervention of the Extractive Industry in an unregulated manner in developing countries has caused severe resource depletion and increased pollution, deeply affecting surrounding, rural communities while contributing to the overall changes in climate globally.
Women are particularly affected by Extractive Industries; the development and exploitation of oil, gas, and mining, have grave consequences on matters of land ownership and use. The use of land for extractive purposes leads often to forced displacement and migration. Deprived of the very base to providing resources for survival, some women leave their communities in the search of viable ways to sustain their families, facing a magnitude of gender based violence along their path. Those women remaining in their communities, stay to actively defend their land and resources seeking to regulate extractive practices in order to ensure sustainability of life as a whole. Usually left without any local, national or global support, these women activists encounter various challenges as mothers, wives and community member.

OBJECTIVE
In highlighting rural women's experiences directly affected by Extractive Industries the panel centers the discussion on the issues of the industry's unsustainable practices while seeking lasting solutions. The emphasis of this panel lies in exploring gender equality, sustainability and fair economy practices, to define together a strategic agenda that supports rural women and girls, while strengthening their communities in managing their land and water resources. The panel seeks to promote responsible and sustainable production that triggers economic growth benefiting impacted communities directly and the world economy at large.

Stefania Marchina | UNA USA SAN DIEGO A board member since 2017, Stefania has been co-chairing our Women's Equity Council (WEC) for the past 1.5 years. Under her leadership, the Council has been actively cross collaborating with many diverse community organizations in San Diego County providing panel events and social media campaigns on current and timely topics.
A native of Mexico, Stefania is a feminist activist working to address gender based violence and economic empowerment for women and children. Particularly focusing on vulnerable population within Mexico, she forges partnerships within the feminist movement in Latin America to collectively advocate for gender violence prevention, sanction and eradication. As a member of the National Feminist Encounter of Mexico, Stefania takes an active part in its Committees for Finance and Communication.
Ms Marchina lives currently in San Diego, working as Manager of Finance. She holds a bachelor degree in International Relations and a masters in economic development and international cooperation.
Verona Collantes | UN WOMEN is an Intergovernmental Specialist at the United Nations Entity for Gender Equality and the Empowerment of Women (UN Women). She works with governments, UN entities and other non-government partners to ensure that intergovernmental processes and their outcomes incorporate a gender perspective. Among the intergovernmental processes she led and oversaw for UN Women and whose outcomes integrated strong gender perspectives included Rio+20 Conference, UN Framework on Climate Change (UNFCCC), Conferences on least developed countries, small island developing states, migration and desertification.
With partners, she develops knowledge products, builds capacity and convenes experts to discuss concepts and strategies to empower women and mainstream gender in policies and actions on climate change, desertification and land degradation, migration, sustainable development, among others.
Prior to joining UN Women, she worked for the UN Office for the High Representative for LDCs, LLDCs and SIDS in New York, and the United Nations Office in Geneva, the United Nations Conference on Trade and Development (UNCTAD) and the World Trade Organization (WTO) in Geneva, Switzerland, where she carried out research and analytical work, capacity-building and inter-agency and intergovernmental functions. Before working for international organizations, Ms. Collantes-Lebale was a Philippine Foreign Service Officer and a Senior Foreign Affairs Research Specialist. She also taught courses in Economics and Political Science at the University of the Philippines.
Ms. Collantes has a Master in International Law and Economics degree at the World Trade Institute in Bern, Switzerland and has completed post-graduate courses in International Relations at the Institute of Social Studies in The Hague, the Netherlands, and in Economic Development at the Thammasat University in Bangkok, Thailand.
Fred Sullivan | MAN UP CAMPAIGN a Champion of Change, Fred is an activist, technician, and entrepreneur with a strong background in youth leadership and a passion for social justice. In 2009, he cofounded the Man Up Campaign – a nonprofit that works toward ending gender-based violence by engaging boys and men and starting important dialogues.
As a young adult, Fred moved from his hometown in Iowa to New York City after receiving an opportunity to join a dance company and be mentored by the legendary choreographer Merce Cunningham. Fred was able to make important connections within the company that gave him opportunities to work in the film department and learn how to code and develop websites at a young age. Soon enough, he was creating online content for a variety of organizations, including social justice and environmental nonprofits. It was that experience that sparked Fred's interest in nonprofit work and eventually led to the start of the Man Up Campaign.
To Fred, the concept of 'manning up' means being responsible for preventing violence against women. The campaign works to engage youth on a global level by establishing inclusivity through the use of common things – such as sports, music, arts and technology – that connect people and bring them together. "Most men are good men, and we need to be more active about changing the structure," Fred says. By structuring important discussions about gender-based violence around something relatable, the campaign engage youth and create sustainable change at the individual level.
Fred's hard work with the Man Up Campaign has led to tremendous accomplishments for gender equality and positive change all over the world. His advice for continuing to work towards achieving gender equality? "Encourage an environment where people can envision change. Have people think about what it would be like if women were equal to men."
Fred is one of the many inspiring people selected as part of our Champions of Change campaign, which honors individuals who have made a difference in the lives of women and girls in the Metro New York area or globally.
James Byarugaba | MAN UP CAMPAIGN is passionate about seeing children and young people live their lives to the full and he has committed the last 14 years working with a youth NGO in Uganda called Youth Alive Uganda that implements development projects for children and young people in four thematic areas namely sexual and reproductive health, Livelihood programs, Human rights and skills development. Mr. James Byarugaba currently works as the Director programs and Business Development in charge of project design, planning, implementation and business development
James Bayrugaba is also a Man up delegate a global coalition of young people across the world to end sexual and gender based violence and he is so passionate about promoting gender equality as well as preventing sexual and gender based violence and his vision is one world … where boys and girls and men and women have the same opportunities and are empowered to contribute equally in shaping the world they want, and a violence-free world where no human being owns the other or inflicts harm based on one's gender. James Byarugaba holds a masters in Human Rights and currently doing a second Masters in International Development from National University of Ireland-Maynooth