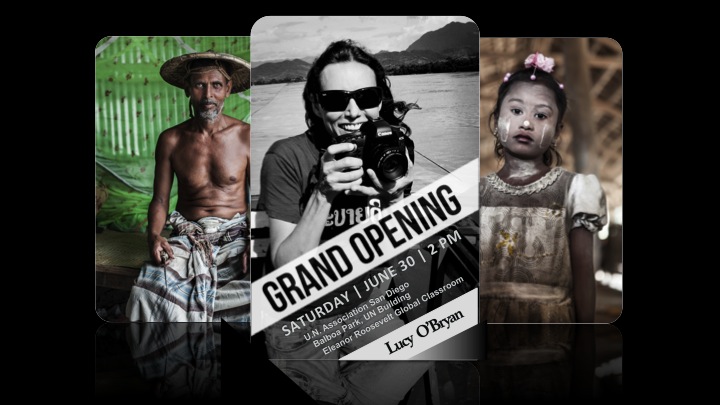 PRESS RELEASE | FOR IMMEDIATE RELEASE
Official Opening of Eleanor Roosevelt Gallery at United Nations Association San Diego
The United Nations Association of San Diego (UNA USA San Diego) created the Eleanor Roosevelt Gallery, an exhibition space hosted in its former Global Classroom offering artists from the substantial refugee community to showcase their work prominently in historic Balboa Park. On Saturday, June 30, 2018, the official inauguration is hosted at 2 pm in the United Nations Building, the Association's office since the mid-1950s due to Eleanor Roosevelt's personal negotiations with the City of San Diego.
Opening this three-month rotational exhibition opportunity, photographer and human rights activist Lucy O'Bryan is sharing her powerful photos featuring her work and travels with various international non-governmental organizations through conflict zones and the developing world. "Many of the people I meet have tragic stories of unimaginable pain. Yet they still have hope. Their hearts are broken but their spirits are not. If they can dream of a future built on a shattered past, what can we do to nurture that hope?" O'Bryan's first official show is co-sponsored by UNA USA San Diego's long-standing partner Pop Culture Hero Coalition with founder Chase Masterson.
President of the Board, Alina O'Tool is "thrilled to offer the former classroom to the broader community as a space of artistic expression" and actively supported the remodel idea by Executive Director, Bettina Hausmann, who saw the growing need for a prominent exhibition space for the countless talented artists within the San Diego Refugee Community. "The year 2018 is simply perfect for such initiative," Hausmann said, "with the 70th Anniversary of the Universal Declaration of Human Rights, what better way to showcase our shared humanity." Both, Hausmann and O'Tool hope that wider access to artworks from the Refugee Community will cultivate an understanding and deepen an appreciation for culturally diverse San Diego.
In finalizing application and selection processes for upcoming exhibitions proposals, UNA USA San Diego will work in close partnership with the San Diego Refugee Forum. For media and press inquiries contact Executive Director, Bettina Hausmann
About UNA-USA San Diego | As a program of the UN Foundation, UNA USA San Diego is promoting engagement with the United Nations. With its prestigious consultative status to the United Nations, UNA USA San Diego links the local community with the United Nations and vice versa. Fully volunteer-based, UNA-USA San Diego actively engages partners and stakeholders locally since 1946.
Lucy O'Bryan is an accomplished Humanitarian photographer specializing in international human rights and economic empowerment issues. When the news began to speak of genocide during the Kosovo war, Lucy O'Bryan grabbed her dilapidated camera, printed a fake press pass, and headed to the refugee camps at the Kosovar border with her eleven year old son. As NATO bombers flew overhead, Lucy wandered through the refugee camps, listening to the horrific stories of ethnic cleansing and mass genocide. It was in these moments that her path was clearly defined. Thus began her crusade to bring awareness to Human rights issues.
Since then she has worked with a wide range of institutions and organizations, including the United States Department of Agriculture (USDA), the United States Agency for International Development (USAID), the World Cocoa Foundation, and Heifer International. In Cameroon, while working on a school feeding program she urged the Ministry of Education to combat forced child marriage, and in Laos, she worked with the Lao Government to create a human trafficking protection curriculum. Lucy has worked on every continent using photography and her expertise in human trafficking to support human rights and economic development efforts.  She firmly believes in the power of proactive love and challenges us to put that love into action to heal the world and bring freedom to the oppressed.  VISIT HERE WEBSITE: http://lucyobryan.org/
She is committed to exposing Human Rights abuses - in particular, modern day slavery and human trafficking.
Interested in being considered as our featured artist and you're a Refugee residing in San Diego?
COMING SOON - Application & Selection Process.